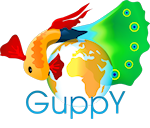 Blog
News
Downloads
Links
FAQ
---
Welcome to Archers du Bandiat
---
Homepage
Welcome on the website of the Compagnie des Archers du Bandiat

We are an association "law 1901" associated to the Fédération Française de Tir Libre (FFTL), and on an international level to the International Field Archery Association (IFAA) for those who want to participate in competitions.
Since 2019 affiliation: fédération nationale Sport en Milieu Rural (FNSMR)
We practice only field archery on animals paper targets and on 3D targets (three dimensional), most of the time distance is unknown.
We welcome archers of every age, beginning at 12 years old, if they are practicing with a tradictional recurve, a longbow or a compound.
Field Archery - N. Dordogne Javerlac near Nontron Have a go at something different! Field archery is a great form of excerise for all abilities from age 12 years upwards. Saturday or Sunday shooting in a woodland setting with a variety of targets. Pleasure and/or competition shooting.

---
Introduction
Useful information
Miscellaneous
FFTL
The Club
---
Pictures
---
An archer in the IliadS
---
§Page Footer
All rights reserved Compagnie des Archers du Bandiat, 24300 Javerlhac, Dordogne, France 2006 - 2020
Document generated in 0.01 second